Meet Cristina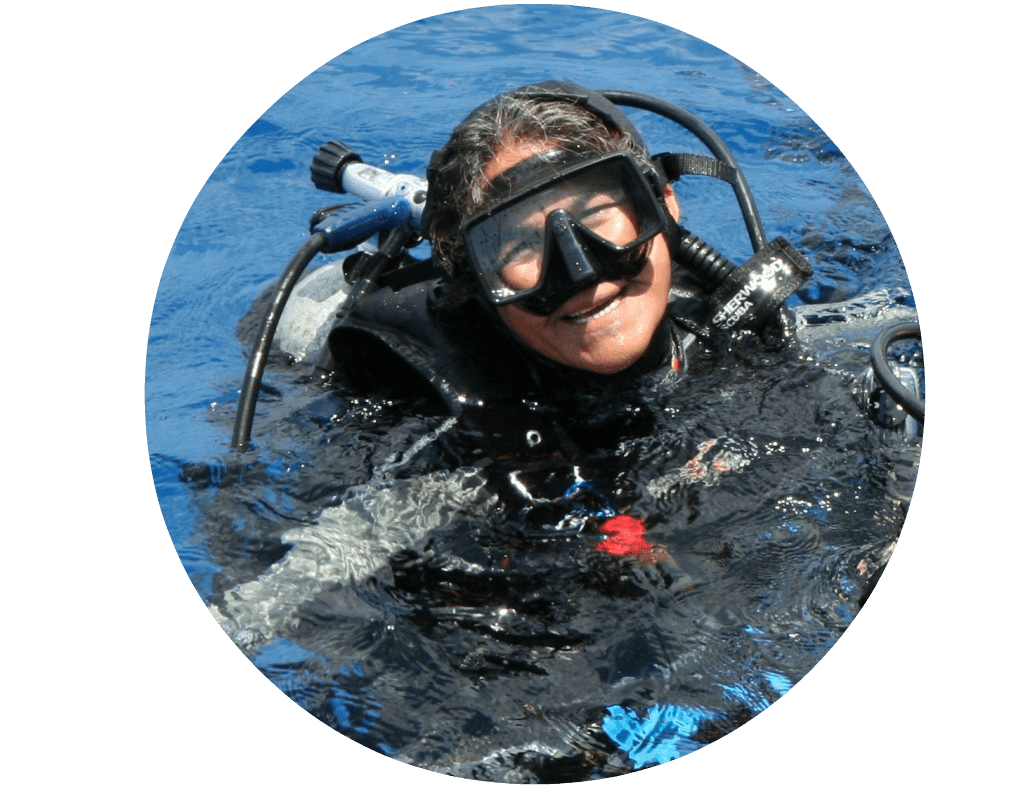 Cristina Roman is the head of our dive crew. She is a native Mexican, born in central Mexico far from any ocean. After graduating from Rice University in Houston, Texas with a Masters Degree in Architecture, she took a short break and traveled around Mexico.
One of her stops was a "Mayan Rivera", on the east coast of the Yucatan Peninsula. She instantly fell in love with the Caribbean Sea and all the beautiful creatures under the crystal clear water. She has never left.
Cristina started her diving career in 1984 with black coral divers and native fishermen. Moving 13 miles east in 1987 to the island of Cozumel, she became certified as a divemaster and shortly after as an instructor.
She kept working on her certifications and by 1995 was an instructor for most of the major dive certification organizations. In 1998 she became a Master Scuba Diver Trainer with PADI.
She is a member of the Association Mexicana de Educadores Perfecionaless del Bueco, A.C. of Cozumel.
With more than 25 years of experience working as a divemaster and scuba diving instructor for several dive shops in the area, she decided to start working as a private instructor and to give newcomers and divers a lifetime experience on the beautiful waters of Cozumel Island in the Mexican Caribbean Rivera.
In January of 2004, Cristina bought her own boat, the Nena, and is ready to share her love of the water, her love of the reefs and all the creatures, and her love of diving with you.
Meet Luis – Dive Crew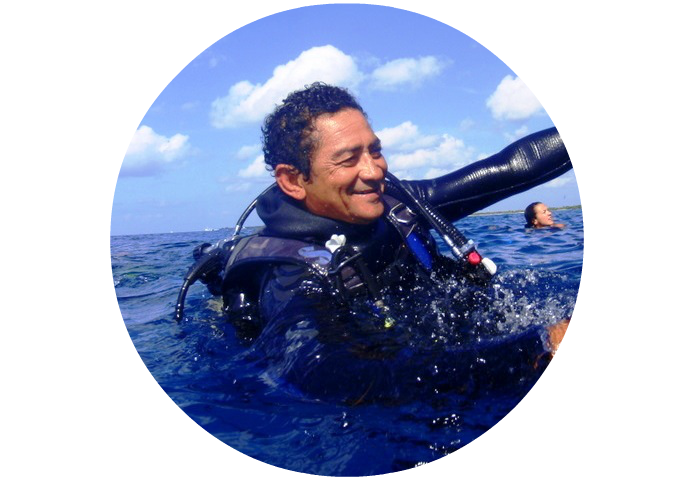 Jose Luis Aguilar was born in Merida in 1957 and starter fishing at the age of 14 with commercial shrimp fisherman at the west part of the Gulf of Mexico. Luis came to Cozumel and became a scuba diver when he was 18 and started working with locals.
He became a PADI instructor in 1982 and started training scuba divers at all levels.
He and his wife Cristina Roman have a private dive service and both teach and take divers to the Marine National Park of Cozumel.
With 20 years of experience, they have the opportunity to take you deep sea fishing on their Bertram 31 ft "Second Front" or diving off their 42 ft. boat, the "Nena", outfitted especially for Scuba.
Leno – The Captain – Dive Crew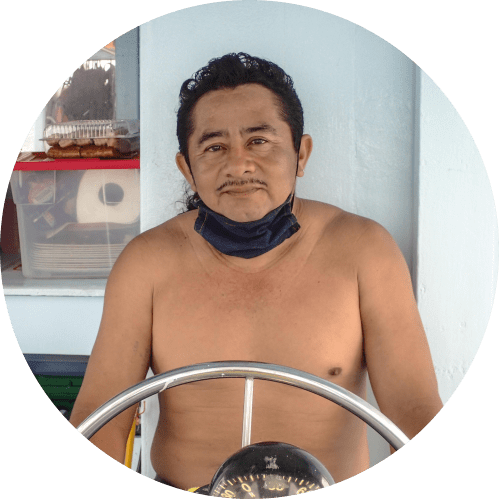 As the captain, Leno has your safety first and foremost in mind.
He's safely gotten people to and from the reefs since Cristina bought the Nena in 2004.
He's a quiet guy but you'll see him working hard in the captain's chair making sure La Nena is in just the right spot.
Moving the boat around in the current and wind and getting divers picked up takes a certain skill and Leno is one of the best!
You'll also see him helping you lift your heavy gear out of the water making your dive as easy and fun as possible.
Javier – The Mate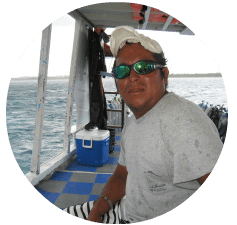 Javier is responsible for your comfort on the trip.
Helping you in and out of the water, serving lunch, and taking care of your equipment.
Your dive gear will always be setup and ready to go before each dive.
Foggy masks are just unheard of when Javier takes care of them!
When you're in the water, be sure to stay close to Javier because he knows exactly where all the good stuff is! If you want to see sea turtles, lobster, or even sea horses, stick with Javier!