Combo Charters: Bring everyone with Combination Trips!
Scuba Dive, Snorkel, and Freedive with us on our 42 ft private boat "NENA"! Dive with Cristina welcomes you to enjoy the turquoise Caribbean waters of Cozumel Island in Mexico on our amazing Combo Charters.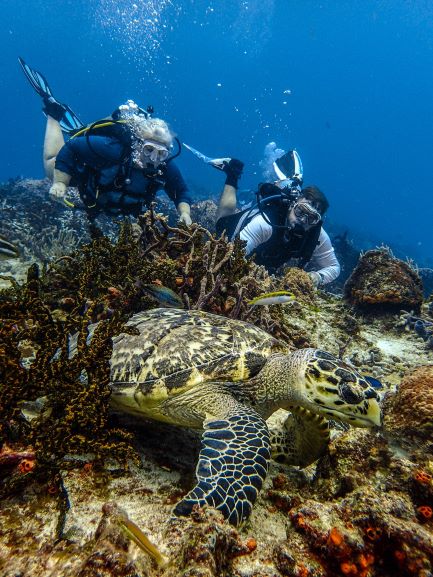 Our family-run operation is fully dedicated to diving and snorkeling.  We can combine and customize any trip for all groups. All levels welcome.
Together, your family and friends can enjoy Cozumel's most popular dive sites of Arrecifes de Cozumel National Park.
Delicious, healthy, gourmet lunch on board in calm shallow water where anyone can swim, snorkel, or suntan.
Relax and enjoy your vacation with your family and friends. You make the plan and we'll organize it for you.
d
PRIVATE COMBO CHARTERS FOR GROUPS CAN INCLUDE:

Diving – All/Mixed Levels, instruction & certification available on board
Diving and Snorkeling + Free Diving
Snorkeling & Sightseeing
Sightseeing
Private trips and special requests are welcome. We have 3 boats available to fit up to 4, 8, and 14 people. Snorkel trips to El Cielo available upon request.
All our trips are family-oriented and include professional gear, guide, and lunch. We are capable of hosting passengers from cruise ships with previous reservations through email.
All prices for combination trips are based on requested needs and the number of persons.
"Best Dive Experience!"
This dive experience was so amazing. It has been a long time since I dove. I was nervous to do so for various reasons. Cristina took the time to go over many diving aspects in a calm and clear way, her English is awesome:), and I immediately felt comforted. She is one of those beautiful souls that make you feel right at home and taken care of…along with some fun humor to make you laugh. I feel as if we have been long time friends, though I just met her. We went through the Palancar caves and gardens and saw a great deal of sea life including rays. It was beautiful! Cristina and her crew were very helpful to those of us who needed help with buoyancy.
After the first dive we had a great lunch with different options to choose from. Then the crew spent time adjusting our gear. This impressed me as well. They took the time to figure what did and didn't work and adjusted accordingly. We then went to the next dive site where they calculated the current and set us in the proper spot to happily float along. I had trouble this dive clearing my mask fully so Javier stayed with me to help me figure it out. I immediately felt calm and taken care of.
Overall I would recommend a dive with this company. You will be in good hands! They are extremely knowledgeable of the dive spots as well as the ocean. I feel confident and ready to be diving again. And I feel like I always have a great friend to come and dive with in Cozumel. Thanks so much Cristina!!!!
-Jada T